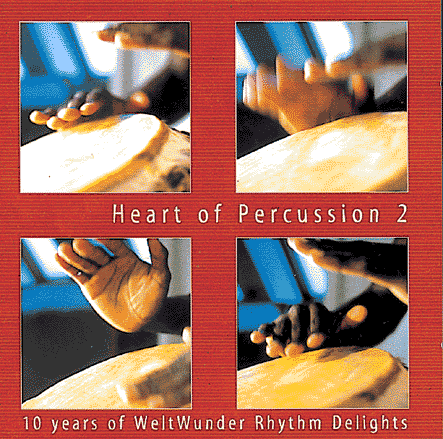 Master drummers like Mustapha Tettey Addy, Aja Addy and Dudu Tucci have built a growing reputation, not only for their timeless recordings but also for intense concert performances, for their work as percussion teachers, and for the ability to pass on cultural traditions. Especially during the last couple of years they have extended their activities to countries like Japan, the UK and Italy, gaining respect and appreciation far beyong a small circle of percussion aficionados.
While the Ghanians, Mustapha Tettey Addy and his nephew Aja Addy, continue to track down the paths of their own heritage, Dudu Tucci and newcomers like Nyanyo Addo extend the boundaries by picking up new ideas, unlikely instruments or influences from different cultures.
Both, the reinterpretations of ceremonial festivities and the new sound experiments have led to a variety of results, which have been passionately observed and edited by the experts in rhythm - Weltwunder Records. Join the groove train !
1. Nyanyo Addo: Wo ba wo ba shue 6:02
(D.Nyanyo Addo) taken from "He's in Trance now" WW 113
2. Aja Addy: The Drums are speaking 4:26
(Joseph Kpani "Aja"Addy) taken from "Live Refreshment" WW 118
3. Mustapha Tettey Addy: Oblogo Lamptey (Remix) 4:08
(Mustapha Tettey Addy) taken from "Smart Boys" WW 117
4. Dudu Tucci: Sampablack 4:59
(Dudu Tucci) taken from "Tribal World" WW 114
(A.Cetin) taken from "Samba Percussion live in Concert" LaZaRecords LR 200
with kind permission of Paul Lazare, lazare@quinta-feira.de
6. Global Drummer: The Earth holds us 3:59
(Donald Holtermanns) taken from "Global Drummer" WW 116
7. Nyanyo Addo: Kaa ya mo 5:49
(D.Nyanyo Addo) taken from "He's in Trance now" WW 113
8. Ibro Konate & Anta: Konja 5:41
(trad.) taken from "WallaWalla" Anta Records
with kind permission of Sylvia Franke, Fax +49 (0) 40 823043
9. Mustapha Tettey Addy: Pili Pili 5:22
(Mustapha Tettey Addy) taken from "Secret Rhythms" WW 112
10. Nyanyo Addo : Morning Sun (Tunez Remix) 4:44
(D.Nyanyo Addo) taken from "The Tranceformer" WW 119
remixed by tunez, Dirk Urbach, Düsseldorf, music@tunez.de
11. Global Drummer: When do we come together 4:10
(Donald Holtermanns) taken from "Global Drummer" WW 116
(Dudu Tucci) taken from "Native Dreamer" WW 110