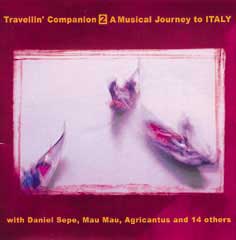 Travellin' Companion 2: A Musical Journey to ITALY
With A Musical Journey To ITALY WeltWunder Records continues a new series of expeditions through countries and regions that have not as yet played an important role on the international circuit.
The 'Travellin' Companion' collection explores the often unusal and risky experiments of mostly young artists who combine traditions of their own countries with input from foreign musical cultures and modern technology. Aptly for this globalising world at the start of a new millenium we find here the dialects and voices of many 'italies' from the Alps to Sicily. We atumble across 'cultural archeologists' finding a fresh approach to the musical history of their country.
ITALY has rightly become renowned in the fields of canzoni and opera - now explore yet another side of this diverse musical culture !(extensive booklet text see at the bottom end of this page)

The Songs

1. Folkabbestia:Azzurro 2:54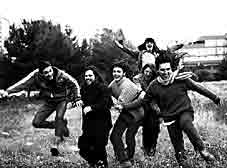 Folkabbestia already have an established name in the Italian peninsula. The mixture of rock, tarantelle, canzone Italiana, Irish folk and ska rhythms, with the energy of a rock band, often opens some interesting musical perspective: the south of Italy is always present, with its warm and beautiful melodies, and the passion for immortal, evergreen songs, in this case the Balcan flavoured cover of "Azzurro".


2. Mau Mau: Makè Manà 5:20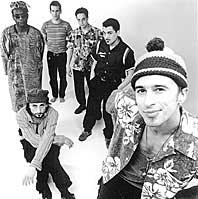 Mau Mau is a Piedmontese word used to define tramps, immigrants, people who come from the south of Italy or rather from the rest of the world. With a raw acoustic sound they create musical landscapes that link the mountains to the sea, and the sea to the opposite Mediterranean coastline. Their songs tell stories of the poor, the transmigrates, of suburbs and the lost "American Dream". Not only do they use the Italian and the Piedmontese language to create a new dialect, they also build a bridge between the regional culture and the beats that shake the rest of the world.


3. Novalia: Perzu Pe 'Na Creuza De Ma 4:46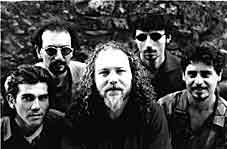 Novalia from the central-Italian region of Lazio blend the traditional music and instruments from this area with electric guitars and sampling machines. Singing in the local dialect "represents our roots, the instinctive expression of our musical sensitivity. The voices of many 'Italies' all have fascinating stories to tell", the band explains.


4. Agricantus: Carizzi R'Amuri 4:44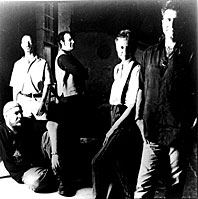 Agricantus, from Sicily, mix the music of the Mediterranean with ambient and trance rhythms. In 1996 they went to the desert of Mali to record with nomad musicians. The result was the internationally acclaimed 'Tuareg' album from which 'Carizzi R'Amuri' is taken. It's an amazing blend of Berber percussion, ancient instruments, voices and sounds of the desert, plus sequencers.


5.Mazapegul: Bandido 5:13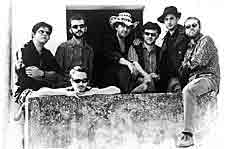 Mazapegul derives from 'Mazapegolo', an elfin spirit which is featured in legends of the central Italian region of Romagna. Formed in 1994, they use folk traditions from Italy, the Middle East and Africa and assimilate them in their own non-traditional arrangements - a mainly acoustic 'crossover' music with an original and highly energetic slant.


6. Càlic: Cap-Caldaru 3:39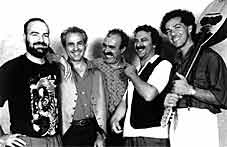 Càlic started studying the traditional music of Sardinia in 1981. The members recovered and reconstructed typical instruments like the mandola, ximbomba, serraggia and zucchitta for a reworking of traditional songs, and for new compositions in both Sardinian and Catalan dialects. They feel a strong desire to save a musical patrimony, even in modern compositions like 'Cap-Caldaru'.



7. Mario Salva: Non C'e Rosa Senza Spina 3:40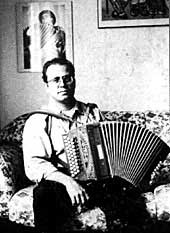 Mario Salva is an organetto (accordion) virtuoso and a polychrome composer inspired by the tarantellas, oriental rhythms and fanfara dances of the traditional south Italian repertoire - a true master of the Neapolitan and Apulian tarantella dance music.


8. Tammurriata Di Scafati: E Scappato 'O Lione 3:27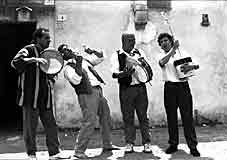 As the rhythm masters of the Vesuvio, the Tammurriata di Scafati represent the most characteristic expression of Neapolitan dance and music. The voice of two singers rise on the beat of their principal instrument: the tammorra, a frame drum with tin cymbals. Traditionally the dance which goes with the tammorra tells about the labour of love and painful work, in gestures typical of common people's life. The Tammurriata di Scafati are active during the traditional ceremonies around the volcano and in concerts all across Europe.


9. Acquaragia Drom: Tromba De Zingari 5:19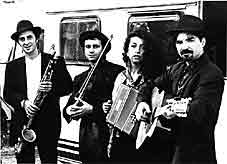 Acquaragia Drom reconstruct a musical journey of gypsy caravans - a gypsy road from the sinti and manouche swing of the Alps, the saltarello in Abruzzo and Molise, the frenetic tarantella from Sicily, Puglia and Calabria to the Neapolitan and Roman gypsy serenata. This is sacred and profane music played at weddings and traditional feasts. The band uses an ironic and corrosive way to present this repertoire that helps the audience to laugh and dance.


10. Ziganamama: Sirba de la Transylvania 4:03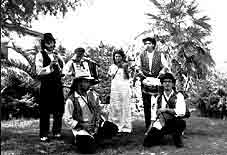 Ziganamama is a project born out of the intention to show the musical crossroads of gypsies and jews. Both ethnic groups, though with a different backgound, are united by the same worship for freedom. The band is characterized by matching up traditional instruments like clarinet, violin, accordion and percussion with more contemporary ones like guitar, bass and drums. 'Sirba De La Transylvania' is a Romanian dance mixed with two tarantelle from Puglia, the region where Zigana-mama comes from.


11.Daniel Sepe: Raggatruffen 5:01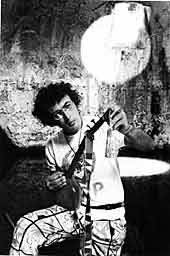 Multi-instrumentalist Daniel Sepe from Naples started his diverse musical career in 1976. In numerous bands and projects he has played all sorts of music from folk to rock to rap to jazz to film and theatre music. This rich musical menu sometimes overloads his records with ideas and details, but in songs like 'Raggatruffen' his musical wizardy shines through when he combines Italian folk tradition with rap and ragga. His 3rd CD "Vite perdite" was internationally released through Piranha and gave him a remarkable success followed by invitations to important jazz and world music festivals.


12. Nidi D'Arac: Pipe, Canella E Mmacarie 3:40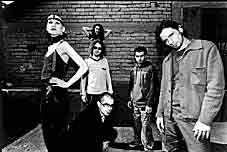 Nidi D'Arac successfully mixes traditional folk music with trance rhythms, jungle beats and digital sounds. Coming from the Salento area and living in Rome now, bandleader Alessandro Coppola fuses the 'pizzica taranta' with new technology. Nidi D'Arac reach audiences ranging from folk festivals to techno raves. Since 1998 they have played an important role in a new Italian popular music scene.


13. Bonifica Emiliana Veneta: Manfrine Nove 4:12
B.E.V. means Bonifica Emiliana Veneta. As the band explains, Bonifica is the action to drain marsh soil and to transform it into cultivatible land. Emiliana and Veneta are regions in the Northern Appennini mountains. "We chose that name to describe a personal desire to live our traditions freely - at the same time to stick to the roots of our music, but also to get away from inflexible traditions."B.E.V., who descend from the popular band 'La Piva dal Carner', mix traditional instruments like the piva (Italian bagpipe) and hurdy gurdy with sax, accordion and guitar.


14. Barabàn: La Brunetta 2:54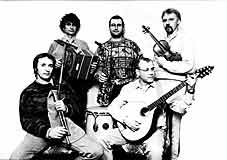 Founded in 1986 in Milan, Barabàn is both a small orchestra and a vocal quartet that interprets and revives the music of the Po river plain. Having played more than one thousand concerts and re-corded 5 CD's, Barabàn developed a unique musical synthesis that joins tradition with future, the sound of northern Italy with music from other countries. 'La Brunetta' is an example of the acappella side of one of the most diverse bands in the Italian roots revival.


15. Marino De Rosas: Mediterraneo 3:13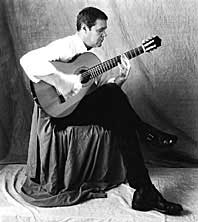 Marino De Rosas is a Sardinian guitarist who, over many years of studying the instrument, developed an entirely unique technique for performing and composing original scores. On 'Mediterraneo' the guitar was recorded without the use of overlaying sounds, but with traditional Sardinian instruments which today are seen more often on display in museums than on stage. The result is a unique blend of styles, brought forth also through the use of reed instruments, reminiscent of the artisan's country workshop, and the sounds and flavors of an ancient Sardinia.


16. Riccardo Tesi + Banditaliana: Tevakh 5:15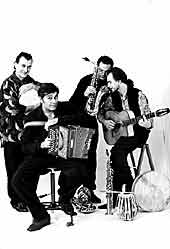 After a 20 year artistic career, organetto and melodeon player Ricardo Tesi followed a call from his 'homeland' Tuscany, to form the quartet Banditaliana and to play a kaleidoscope of musical styles ranging from Tuscany folk music to jazz to the music of the Mediterranean to African rhythms. 'Tevakh', the song selected for this compilation, is the fruit of Tesi's collaboration with Madagascan valiha virtuoso, Justin Vali.


17. Calicanto: Venessia Dai 4:34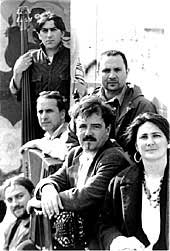 Calicanto from the northern Italian region of Veneto has been delving into the area's musical history for some fifteen years, re-evoking the sounds of the past and reconstructing traditional folk instruments. In their music, Calicanto use the tales of the past to speak about the present. The city of Venice, its taste, curiosity and tolerance was the main source of inspiration for their second album 'Venexia' , from which the closing track 'Venessia Dai' was taken.

A PATH ALONG THE SEA
"Riccu rima a delittu" sings Raffaello Simeoni (Novalia) in his homage to Fabrizio De Andrè. "Rich rhymes with crime": today the twenty Italian regions share once again the richness of a common Italian language but only a few seem to be concerned by the crime of allowing regional languages and local dialects to die out.
A unified country only since 1860, it took Italy some five generations, compulsory military service, two world wars, a Marshall Plan, and national radio and television to forget regional and local traditions, often to opt for a parody of (supposedly) Northern American cultural pattern. This is why "Creuza de ma", recorded by Fabrizio De Andrè and Mauro Pagani in the mid-Eighties stands as a turning point for the Italian roots scene, showing an extraordinary ability to combine old and new sounds from Italy and its neighbouring nations. They produced a unique clothing of sounds for the old/new Genoese language finally on record after decades of nurturing the Italian lyrics of one of the most beloved Italian singers.
As Novalia skilfully acknowledge, most of the labels and artists featured in this compilation are spiritual daughters and sons of "Creuza de ma", a "path along the sea". They rarely make use of the Italian language and they rarely confine themselves within a single local tradition. They bear witness to a wide geographical and cultural spread. The traditional material is usually the first musical source though the main focus is modern song formats. Wind-hunters on a boat in the middle of crossroads between East and West, Italian roots music groups have their Northern dock in continental Europe and their Southern anchor in the Mediterranean waters.
Of course, there's no need to find an equilibrium as there is not "one" Italian musical tradition. Nevertheless, for those who are seeking some signs on the Italian map, the country can be roughly divided into four broad musical regions.
The combination of the Alpine and of the Po Valley regions provides a distinct character to the music of the North, well represented here by groups from Emilia Romagna (Bonifica Emiliano Veneta, Mazapegul), Lombardia (Barabàn) and Piedmont (Mau Mau).
The Apennine mountains cut across Central Italy, hosting open minded and well travelled musicians from Tuscany (Riccardo Tesi + Banditaliana), Lazio (Novalia), Umbria, Marche, Abruzzo and Molise.
The remaining four regions, Campania (Daniele Sepe), Puglia (Mario Salvi, Folkabbestia), Calabria, Sicily (Agricantus) are traditionally known as Meridione (the South). Here the rhythms of the frame drums are still alive and well, as witnessed by the traditional tammurriata of the old and new generations from Scafati or by the progressive rendition by Nidi d'Arac.
Sardinia is a world of music in itself. The island is a source of inspiration not only for Sardinian artists (Càlic, Marino De Rosas), but also for outstanding instrumentalists from other regions such as organetto (diatonic accordion) player Riccardo Tesi who in "Tevakh" builds a fascinating bridge between Sardinian and Malagasy rhythms. Beyond simplistic categorisations, Italian roots music remains nomadic by nature and quite at ease with recent and ancient influences from gypsy and klezmer music such as those heard in the tunes by Acquaragia Drom (Rome) and Ziganamama (Bari, Puglia).
Enjoy!
Alessio Surian
Contributor to the Rough Guide to World Music